I am a brain donor. But hey, I'm happy... so it's okay. At least, today I'm happy. Tomorrow I'll probably be about 17 shades of tired, and most likely a little grumpy by the end of my 12 hour shift (esp after staying up past midnight tonight), but when the opportunity to go to dinner & a movie with Chris & Jo comes up, I'm .... well ....
I'm just a girl who can't say no
.
Tonight after work (I get off at 8:00 pm, remember) I met them for dinner - after which we drove back a little closer to home (and also to the theater where you're allowed to bring in food from the surrounding food establishments - hello, Cold Stone!) for a movie. I got home at 12:15 and, sadly, am wired as all get out ... so I thought I'd share my night with my online audience. (I know, you all wish I'd just go to bed already, but first please allow me to give you a little insight into my Fabulous Friday Night.)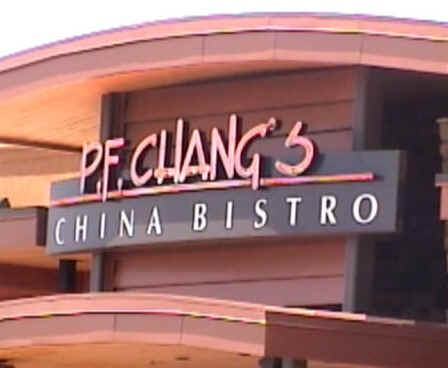 Hello, PF Chang's - one of my many true loves when it comes to food. Tonight I had my fave - Mongolian Beef, with about 3 cokes (because we all know that I love myself some sweet & fizzy coke along with my salty & spicy food). It was, as always, amazing. Mmmmm......
Hello, Cold Stone - my one true love when it comes to places that serve frozen confections. Tonight I had the Very Berry (however-that-goes) with toasted almonds. Oh, that ice cream's a little piece o' heaven, I tell you...
holy freaking crapping cow
, this movie made me laugh so hard that I thought I was going to break something loose inside of me. Honestly - the wacky Minnesotan hair-do's and the accents, not to mention the local colloquialisms.... seriously - about the funniest thing I've seen in I-don't-even-know-how-long. Wow.
So, there you have it - a night in the life of me. And my favorite part of the whole night (and you'll have to admit that topping my fab dinner, my favorite ice cream in the whole entire world and the funniest movie I've seen in a good, long time is something to say) was when Jo turned to me in the movie ticket line, as I was standing there tired and bleary eyed (but still happy to be there, out with two of my favorite people EVER) and said "I'm so glad you came... I love this spontaneous part of you ... the eat, drink & be merry part." Do you see why I love her? "The eat, drink & be merry part" ... now, that's pretty great. It's not every day I hear something that so sums my life up. And even though I know that's probably not the most flattering picture of me ever painted (if you take it in the direct scriptural meaning, which you know I don't ... as I never like to think of myself in an un-flattering light), I do think it's pretty accurate... Gosh, it's great to have friends that know me so well - and love me in spite of myself. I am, truly, the luckiest girl ever.