I took myself on a field trip this afternoon to the local Asian market, hoping to find some Guarana to take to my brother's birthday party tomorrow.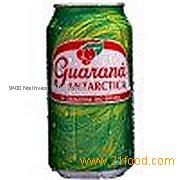 No such luck. No Guarana to be found. (In fact, the typical Brazilian aisle seemed to be oddly missing. The Indonesian aisle? Check. The Tawain aisle? Double check. The Hispanic aisle? Of course. But no Brazilian cheese puff mix or Guadana to be found. Poor Spencer and Kirk. I had
such
great intentions, too.)
But I did run across all manner of other interesting (by which I mean: unusual and gag-reflex-inducing) foodstuffs. Like:
Really? Like I wanted to drink grass in the first place? No. No, I did not. (I am not one to add wheat grass juice to my Jamba Juice. Maybe some protein powder, but most definitely NOT the wheat grass.) Add the word "jelly" to the grass juice, and it just takes on a whole new level of horror.
Then there was this can of aloe vera drink:
What the heck? ... Uh, no. Nope, I'm pretty sure you couldn't pay me to drink this. (And I don't care how much honey you added to aloe vera plant, I don't know
how
you could make it delicious.) There were at least five different brands/versions of aloe vera juice/soda. What the heck?!
On the other hand, I
am
a big fan of pretty dishes:
Seriously, I spent a good 20 minutes in this aisle, just checking out blue and white faux china patterns. (I heart blue and white china. I really do.)
Look at this bowl:
It was, like, $3.50 or something. I sooo wanted to buy it, but then I remembered that I already have too many serving dishes in my cupboards that I never use, so I made myself leave it at the store. But seriously, I wanted it. Badly.
But what
didn't
I want? I will show you. Look at this bizarro fruit:
I can't remember what it was called, but the word "fresh" was in the name of it (or was on the sign, anyway). I don't know if that means that they were actually fresh/new whatever-they-were, or if fresh is part of the name of the fruit. (Or maybe it's a vegetable. I don't know. It was in the produce section, so it could go either way.) All I know is, I had never seen anything like it. They were about the size/shape of watermelons, but they were pokey. And more than a little bit scary to me.
Huh.
The Asian market. Always a good time. ... Until you get sick of breathing through your mouth so you don't gag and you have to leave before you lose it. (I tell you, it's the live fish they keep in the back of the store. When I first walk in, it smells a little fishy, but I think I can take it. After 20 minutes or so of walking the store, perusing unusual foodstuffs, I realize I'm about to be done in by the smell of fish and I have to run for the exit like I'm running for my life. Every time.)